Nominating Committee for the 27th ARTS Awards Announced:  Fourteen members of the home decor industry  surveyed the nominations received by on-line ballot from the home decor industry and voted for the top companies.   Press release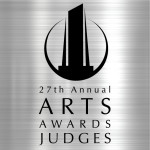 ---
27th Annual ARTS Award Finalists:
Manufacturers
Accent Furniture
Gabby
Home Trends & Design
Noir
Selamat Design
Area Rugs
Company C
Jaipur Rugs Inc.
Loloi Rugs
Safavieh
Home Accents
Go Home Ltd.
Phillips Collection
Regina-Andrew Design
Uttermost
Home Textiles
Lili Alessandra
Bella Notte Linens
Coral & Tusk
Pom Pom at Home
Lighting Fixtures
Currey & Company
Fine Art Lamps
Hubbardton Forge
Visual Comfort & Co.
Outdoor Living
Emissary
Palecek
Seasonal Living
Summer Classics
Lamps
Couture Lamps
Jamie Young Co.
Light & Living
Holtkoetter
Tabletop
Annieglass
Arte Italica
Beatriz Ball Collection
Wall Décor 
Art Addiction
Leftbank Art
Spicher and Company
Wendover Art Group
Retailers
Furniture Store
Single Store Location 24e Design Co. – Savannah, Ga.
Donna's Home Furnishings – Conroe, Texas
Palette & Parlor – Chapel Hill, N.C.
Multiple Store Location
Interior Illusions – West Hollywood, Calif.
Louis Shanks – Austin, Texas
The Arrangement – Dallas, Texas
Home Accents Store
East/Atlantic
Outrageous Interiors – Suwanee, Ga.
The Blue Octagon – Malvern, Pa.
J Banks Design – Hilton Head Island, S.C.
Midwest/Southwest
Dwell Home Furnishings – Coralville, Iowa
Leon & Lulu – Clawson, Mich.
SummerHouse – Ridgeland, Miss.
West
Bella Casa – Portland, Ore.
Urban Chic Home Furnishings – Las Vegas, Nev.
Jonathons Coastal Living – Fountain Valley, Calif
Lighting Showroom East/Atlantic
Hermitage Lighting Gallery – Nashville, Tenn.
Pace Lighting Inc. – Savannah, Ga.
Progressive Lighting – Duluth, Ga.
Midwest/Southwest
Hinsdale Lighting – Hinsdale, Ill.
Passion Lighting – Grapevine, Texas
The Collection on 5 – Minneapolis, Minn.
West
Accent Lighting – Lake Oswego, Ore.
Illuminations – Tucson, Ariz.
Sales Representatives
East/Atlantic
Kevin Gannon – Gannon Sales Agency
Russ Jones – Ivystone Group
Midwest/Southwest
Joann Crawford – In-Detail
Richard Alan – Richard Alan & Associates
Charlotte Urban – Codarus
West
Andrea Combet – Art & Function
Doug Gould – California Lighting Concepts
Leslie Taglio – Taglio & Co.
Product Designers
Ashley Childers – Emporium Home
Dann Foley – Dann Foley Lifestyle
Jason Phillips – Phillips Collection
Ron McIntyre – Square Feathers
Sandra Hernandez Yedor – Lili Alessandra
Interior Designers
Aimee Miller, DTM Interiors
Allison Paladino, Allison Paladino Interiors
Erinn Valencich, Erinn V. Design Group
Traci Connell, Traci Connell Interiors
International Retailers
Aaron Stewart Home – San Juan, Puerto Rico
Design Lighting – Surrey, British Columbia, Canada
Robinson Lighting – Winnipeg, Manitoba, Canada
Station12 – Dartmouth, Nova Scotia, Canada
ART presents the annual ARTS Awards program
The ARTS Awards is a peer nominated program with ballots submitted online from June-July. Anyone in the home accents industry can participate and submit multiple ballots to nominate in several categories. Nominees and finalists are not required to exhibit inDallas or belong to ART.
Finalists are announced in August and submissions for judging are due in November. The presentation submissions are 100% digital. The judges independently review and score each submission on criteria established by the ARTS Awards committee. The 5 judges represent various industry backgrounds and a 6th judge representing the Sustainable Furnishings Council reviews the manufacturer presentations to determine the Green Award winner. The scores are tallied and the winners in each category and the annual Academy of Achievement are announced in January during the Dallas Total Home & Gift Market.
---
ARTS Awards Hall of Fame
 The ARTS Awards Hall of Fame was created to honor companies who have won the ARTS Awards five or more times in a category.
Hall of Fame members are exempt to compete in the category for which they have been honored for three years following their induction.
However, manufacturers with multiple lines or retailers that are multi-regional will be eligible to compete in other award categories.
The ART Hall of Fame Members are:
Distinctive Designs International